Four years ago I spotted a lovely ornament swap too late to join in. I stalked the blog for the next year waiting eagerly for the swap to start again, and I've joined every year since.
The swap is now so large the organizers have had to move it to Swap Bot, but it's still the same great swappers making some incredible ornaments.
If you're in a craft mood, and are up for making and mailing 10 ornaments (and thus receiving 10 lovely ornaments from around the world), sign up!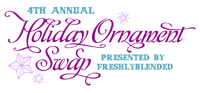 I swap with Swap-bot!